About Us
The Rose Garden in Great Dunmow was opened in 2015 by Stephanie and her father Terry after the loss of her Mum and his wife, Rose. The shop is named after her and everything is done with her and her memory in mind, she was after all, the most beautiful flower of all.
Starting with one full time florist, the Rose Garden has grown over the past 6 years and now employs seven florists and two drivers and has a second shop in Great Bardfield.
We are proud to be members of both the British Floristry Association and the Good Florist Guide, and in 2021 were awarded the runners up in the Flower Shop of the Year in the UK in the BFA awards.
We offer all types of floral arrangements from weddings to funerals, births, birthdays, anniversaries and all other special occasions.
Stephanie
I opened the Rose Garden florist with my dad Terry in 2015 following a career change from working in the city. I trained at the Cambridge Flower School and learned from the high-quality florists we have always employed in the shop. As well as being a senior florist, I manage all aspects of the business and am dedicated to high quality, excellent customer service and creating a happy and enthusiastic team. The Rose Garden is a very special place, named in memory of my Mum Rose and everything we do here is dedicated to her.
I love all flowers, but my absolute favourites are calla lilies, peonies and flowering mint. I am particularly happy making large wild bouquets with huge amounts of texture and scent.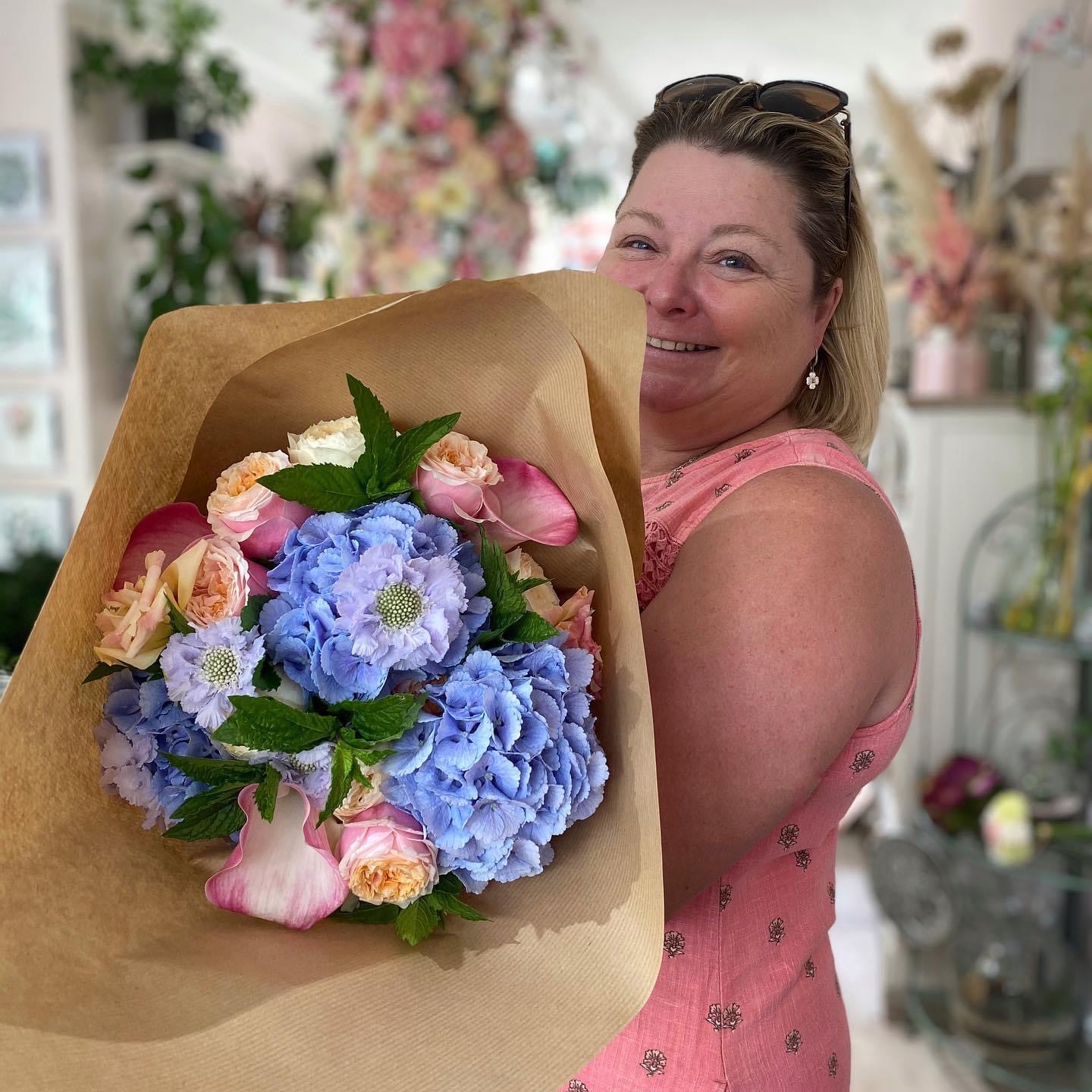 Terry
After I retired from a long career in the army and then IT and security, I joined Stephanie in opening the Rose Garden.
With no pretensions at being a florist, I spend my time looking after the plants in the garden centre, making deliveries and just generally helping out.
My biggest passions are the tropical plants and insects, and I can be relied on to identify all of the strange bugs and spiders that appear from the cupboard under the stairs!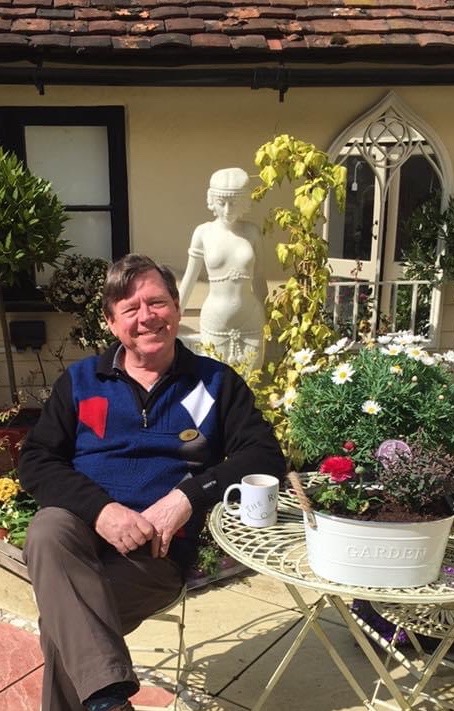 Hannah
I first joined The Rose Garden as a freelancer but I became an official team member in July 2019. I completed my level 2 and level 3 training at Writtle College, achieving a distinction grade for every single assessment set over the course of 4 years (which I think is a bit of a record!)
When I'm not at the shop I run my own business as a wedding florist so I'm a bit of a specialist when it comes to weddings and they are my favourite thing to work on.
I particularly love spring/summer flowers so peonies, sweet peas, garden roses, ranunculus and just anything pretty!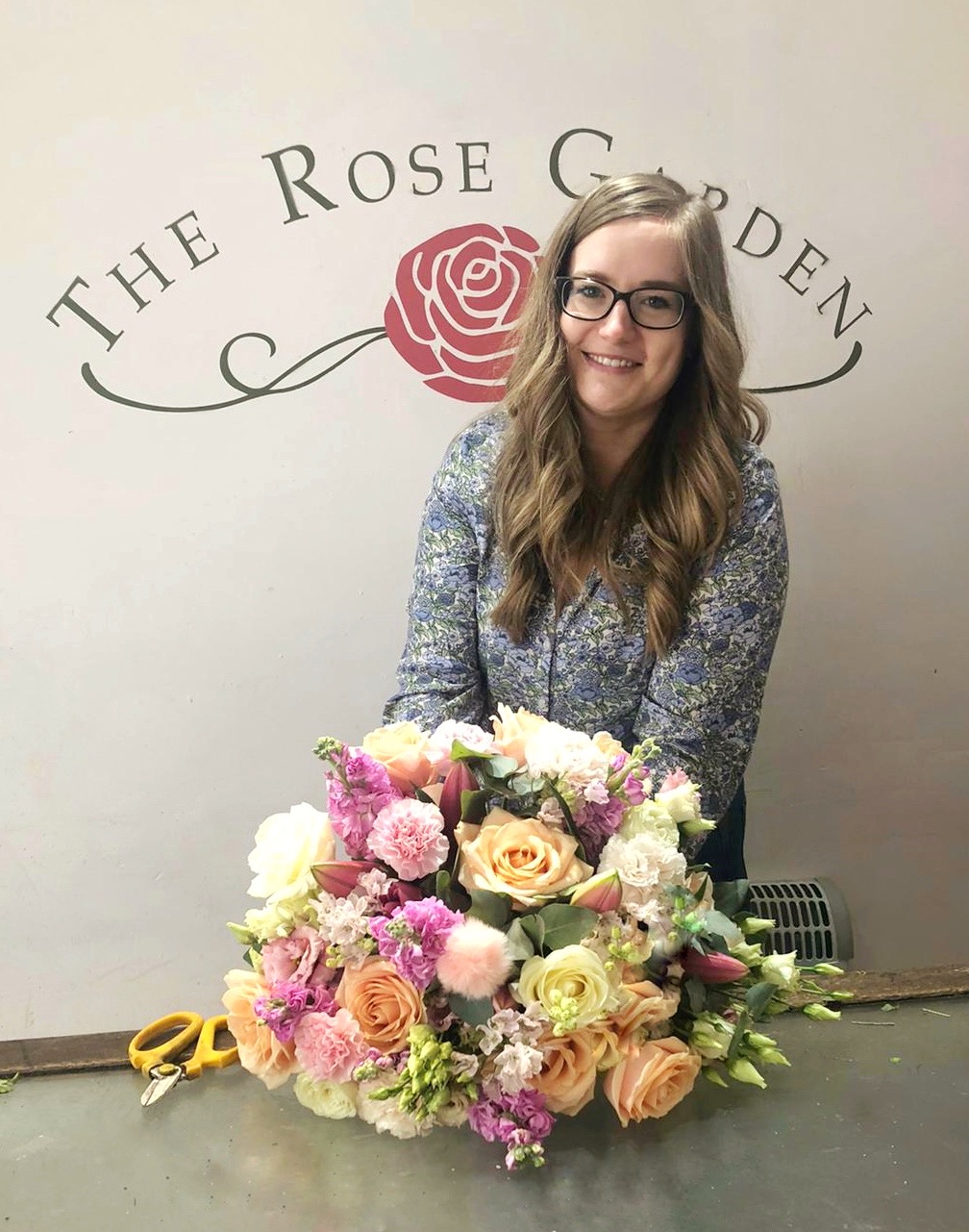 Sarah T
I am part-time at The Rose Garden and spend the rest of my time being a mum to my little girl!
I have been at the Rose Garden from the very beginning, joining in 2015! We have grown together, and I am extremely lucky to be able to work in an environment that allows me to flourish. I have always had a huge passion for anything arts and crafts and graduated with a triple distinction in art and design. I then went on to study floristry at Writtle college and again graduated with distinction. I incorporate my artistic eye into all my floristry work, influenced by our beautiful countryside, my designs tend to be a looser more natural flavour.
I also love a challenge and working in a high street store, gives me the opportunity to explore, create and bring to life our clients visions!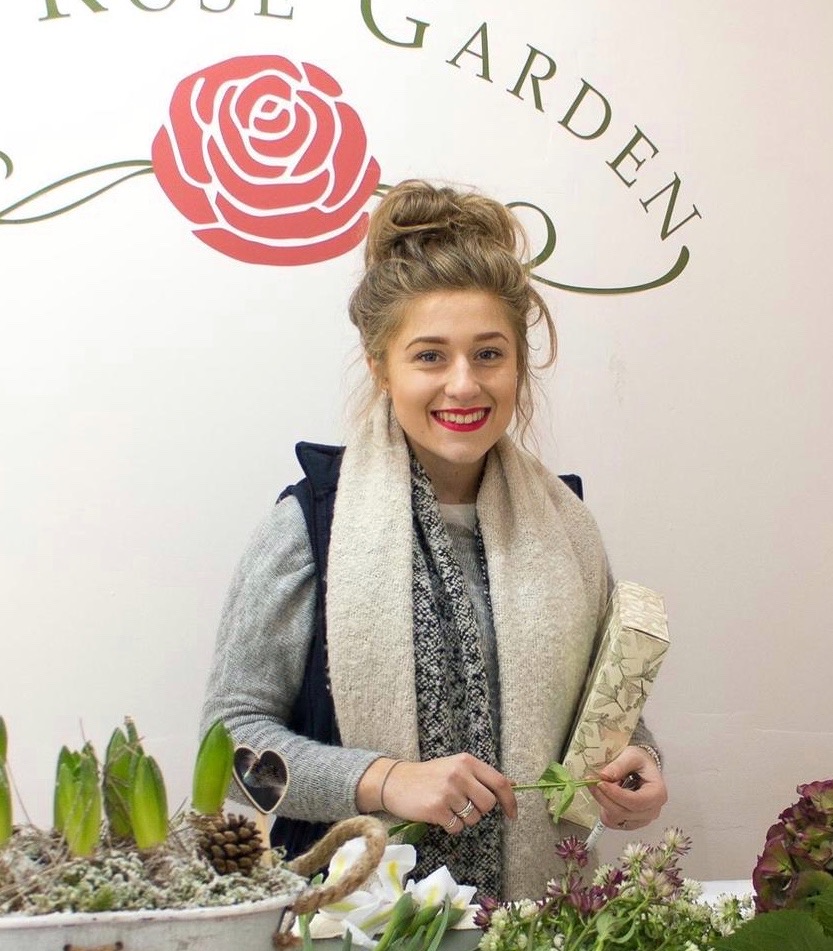 Louise
I have been with The Rose Garden family from nearly the very beginning, starting back in January 2016.
My floristry journey started in 2014 when I was working for a floristry wholesaler. I then started my level 2 diploma in Floristry at Writtle College. My next move alongside this was to Philippa Craddock Flowers at the world-renowned Selfridges in London. It was here that my passion for flowers bloomed. I love the interaction with customers and being able to provide such beautiful flowers to people. It's amazing to be part of such a caring and passionate team.
I will be returning to the shop shortly following the birth of my beautiful baby boy last year. I look forward to seeing all the customers again soon.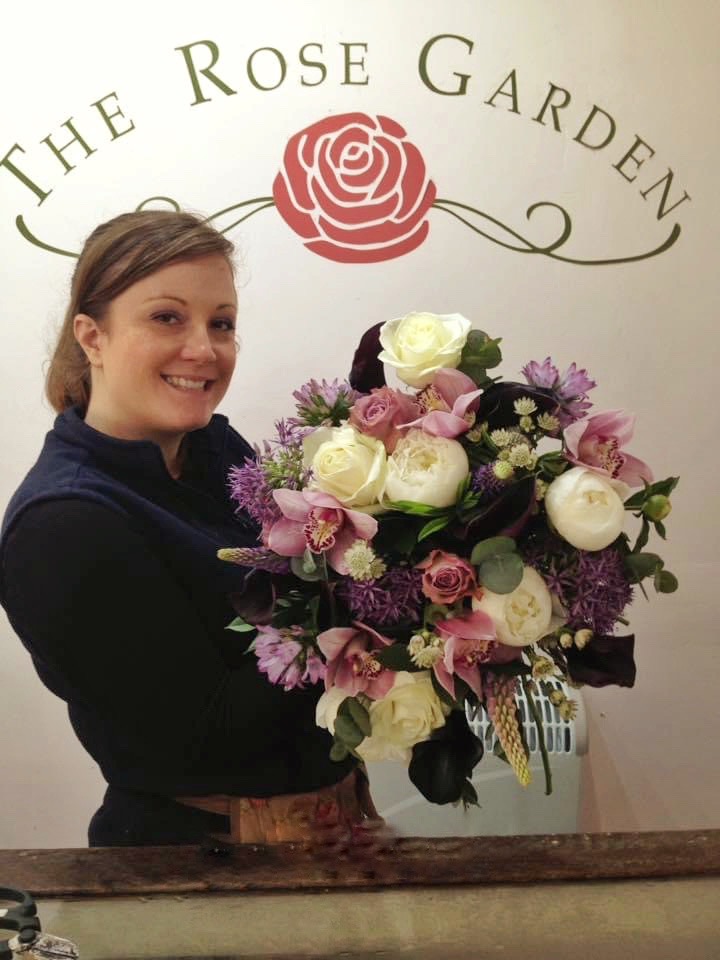 Kristi
After a break of 5 years from being a PA in the City, following the birth of my second daughter, I decided to sign up to some floristry workshops at Writtle College with a friend. We wanted to do something fun and creative together. I never thought it would lead to anything more than a couple of classes and found myself signing up to a part time course at Writtle College a couple of months later! Stephanie kindly took me on for my work experience in October 2019 and I joined the Rose Garden family on a more permanent basis in February 2021.
I've completed work experience and workshops at Judith Blacklock and I've signed up to a McQueens workshop in 2021. I enjoy learning from everyone at the Rose Garden and love that I get to work with beautiful materials everyday! I particularly enjoy making hat boxes and baskets and come Christmas I'm quite fond of door wreaths. My favourite flowers are anemones or peonies and gorgeous scented stocks!
Lisa
I joined The Rose Garden in April 2021 as a full time florist. I started my training at The Cambridge Royal Botanical Gardens linked with Writtle College where I sat my Horticultural Degree. My passion for flowers then took me down the floristry path and I studied for many more years and obtained my Masters and I've never looked back.
I have 3 Gold Chelsea Medals under my belt and demonstrated as a NAFAS demonstrator for many years. I love all aspects of floristry but my preferred styles are contemporary and earthy bohemian looks.
I like nothing better than a massive vase of foliage's, grasses, twigs and berries with maybe the odd few hydrangea for a statement on my table. Outside of work I have two amazing adult children and a gorgeous grandson.
Its lovely to be part of such an amazing caring team and at the same time doing what you love.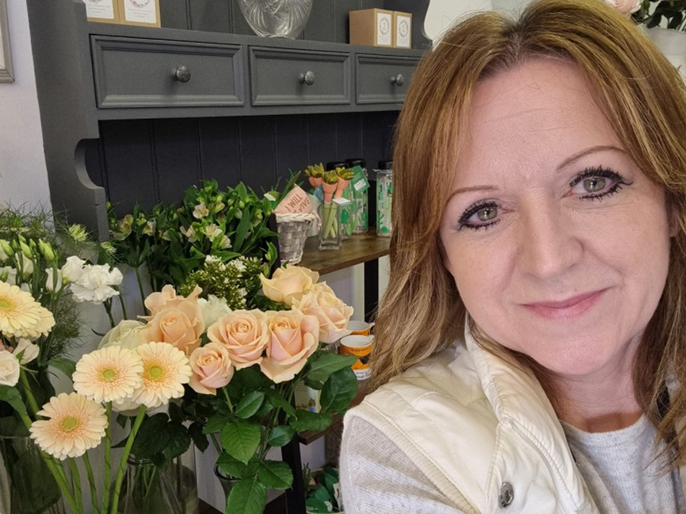 Helen
I joined the Rose Garden in 2019 as a delivery driver and I love getting out and about meeting lots of lovely people and getting to see their reactions to the beautiful bouquets they are being sent.
Outside of work I am a busy Mum of 3 who loves to watch her kids play football. I live for my winter trips to the French Alps to ski and snowboard with my family and I thoroughly enjoy spreading floral happiness via my delivery role with the Rose Garden.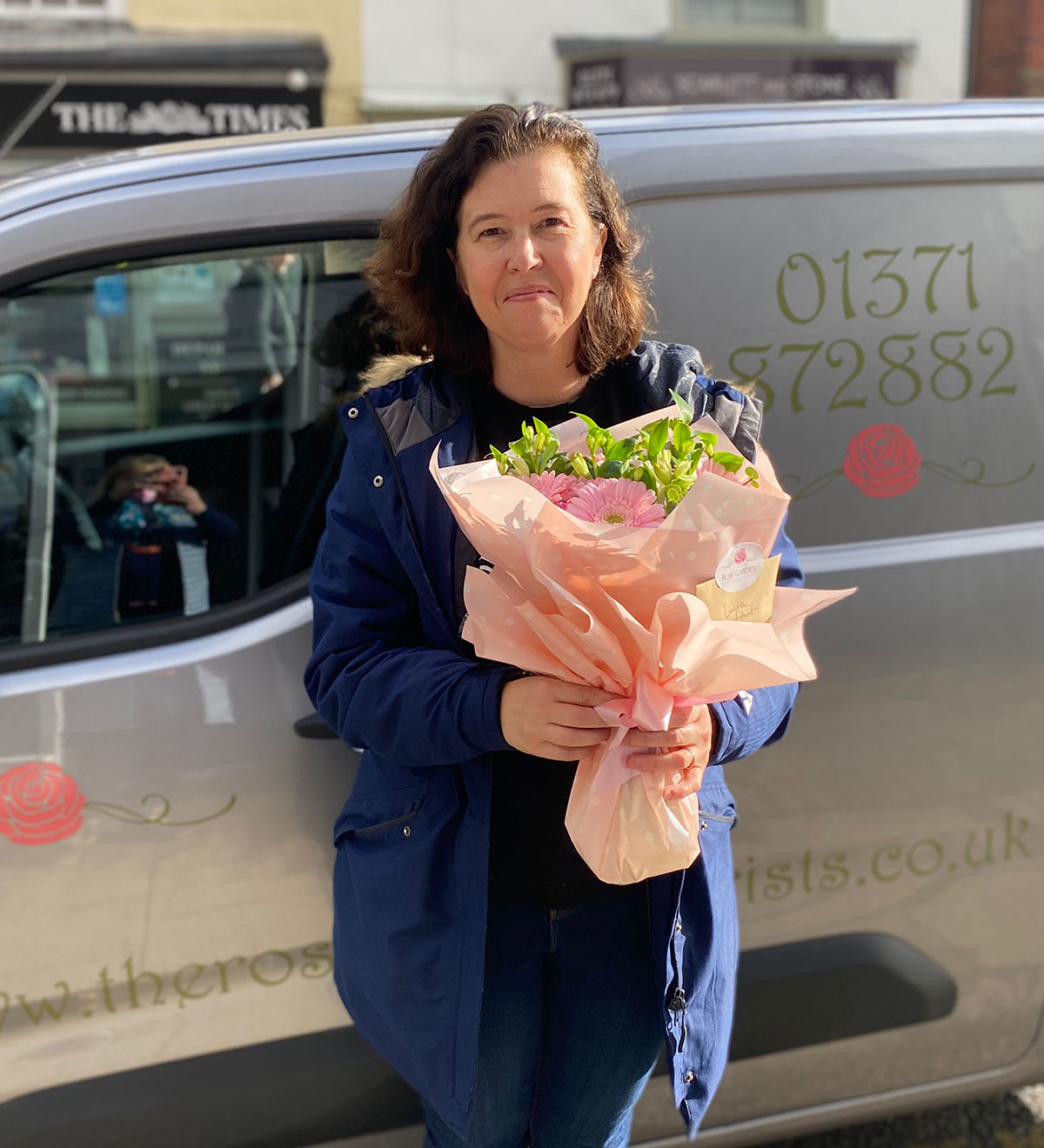 Ruth
I joined the Rose Garden as a part time florist in March 2021 when they bought Cherry Picked Flowers in Great Bardfield, where I had worked for 3 years. I completed my NVQ Level 2 in Floristry at Writtle College in 2004 and I particularly enjoy making handtied bouquets with a wild and bohemian feel. I've been fully initiated into the team starting less than two weeks before Mother's Day, the busiest peak of the year.
Outside of work I am a Mum to three boys which keeps me busy and when I do have time I like to relax and crochet.
My favouite flowers are peonies, roses and stocks.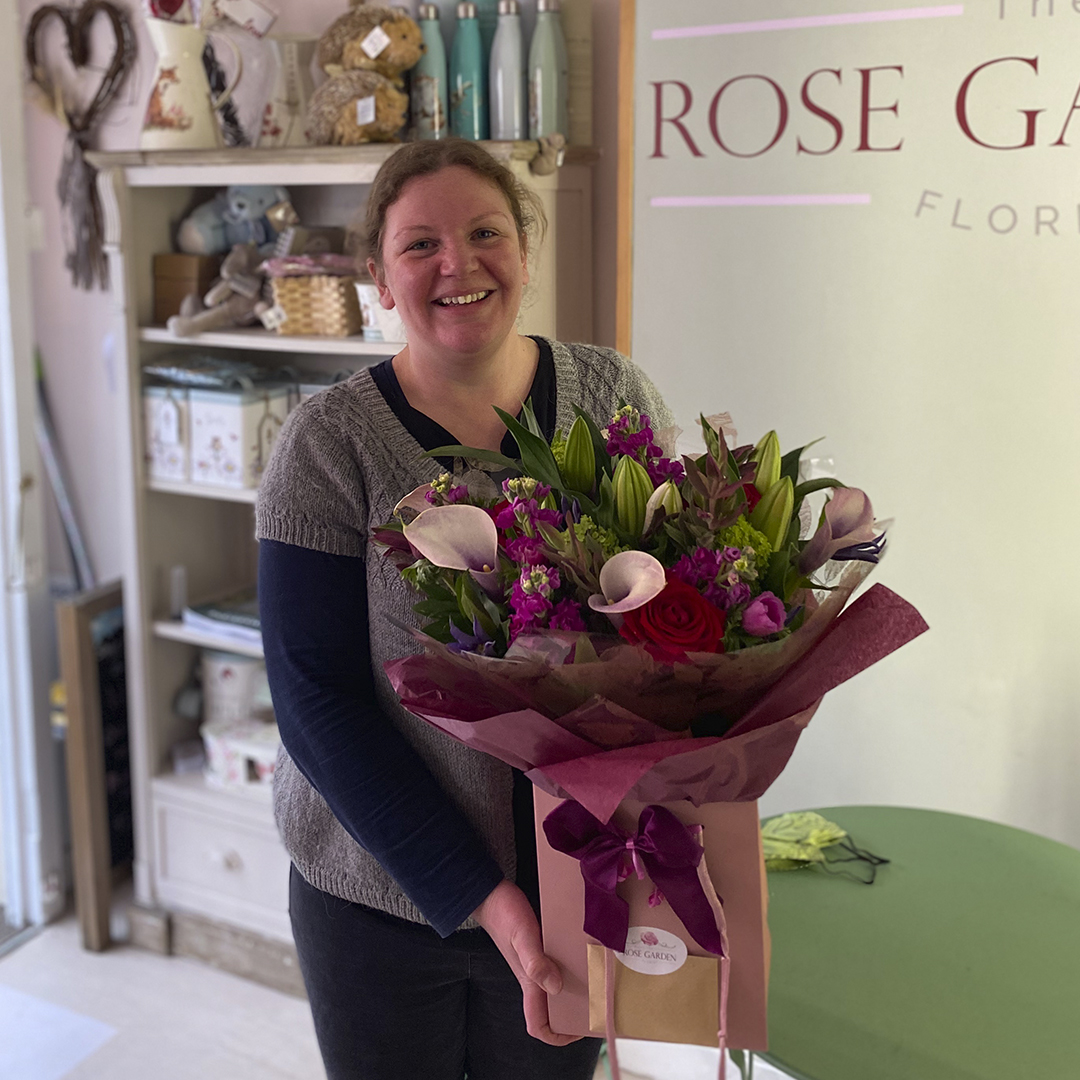 Coco
I am Coco the Cavachon and have been part of the team for four years.
I have no floristry skills whatsoever, but I am excellent with customers and am good at making people smile.
I am completely ruled by my stomach and will do anything for food…
...anything!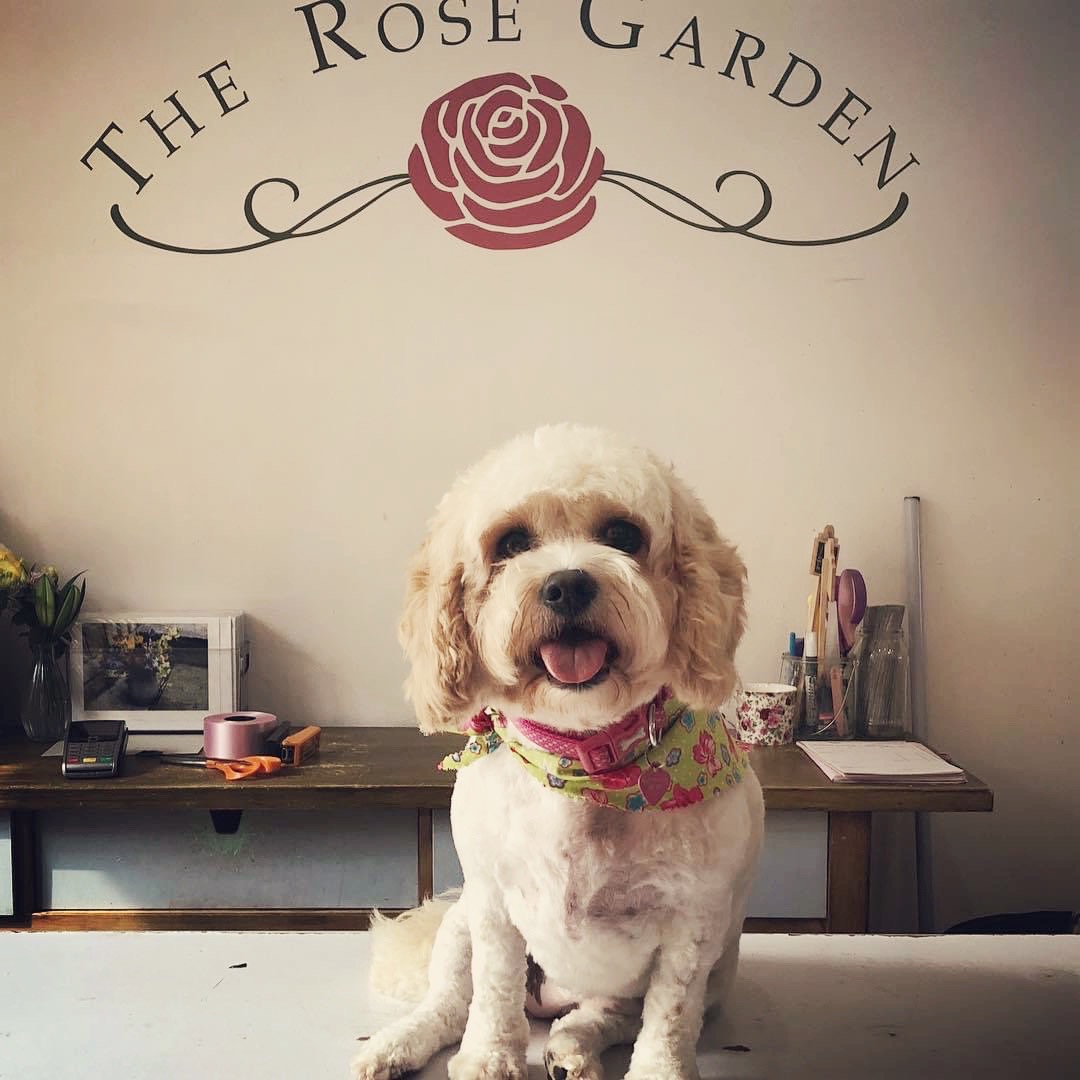 Big Ted
Hi, I am Big Ted and I have been part of the Rose Garden Team since the very beginning.
I am known for my sartorial elegance. My favourite place is in the centre of the window where I like to dress up. My favourite outfits match the season or current event and I have been known to be cupid, a scarecrow, a farmer, a soldier, a nurse and a Christmas elf!
There are many more outfits in my wardrobe so please take time as you come down the high street to see my latest ensemble.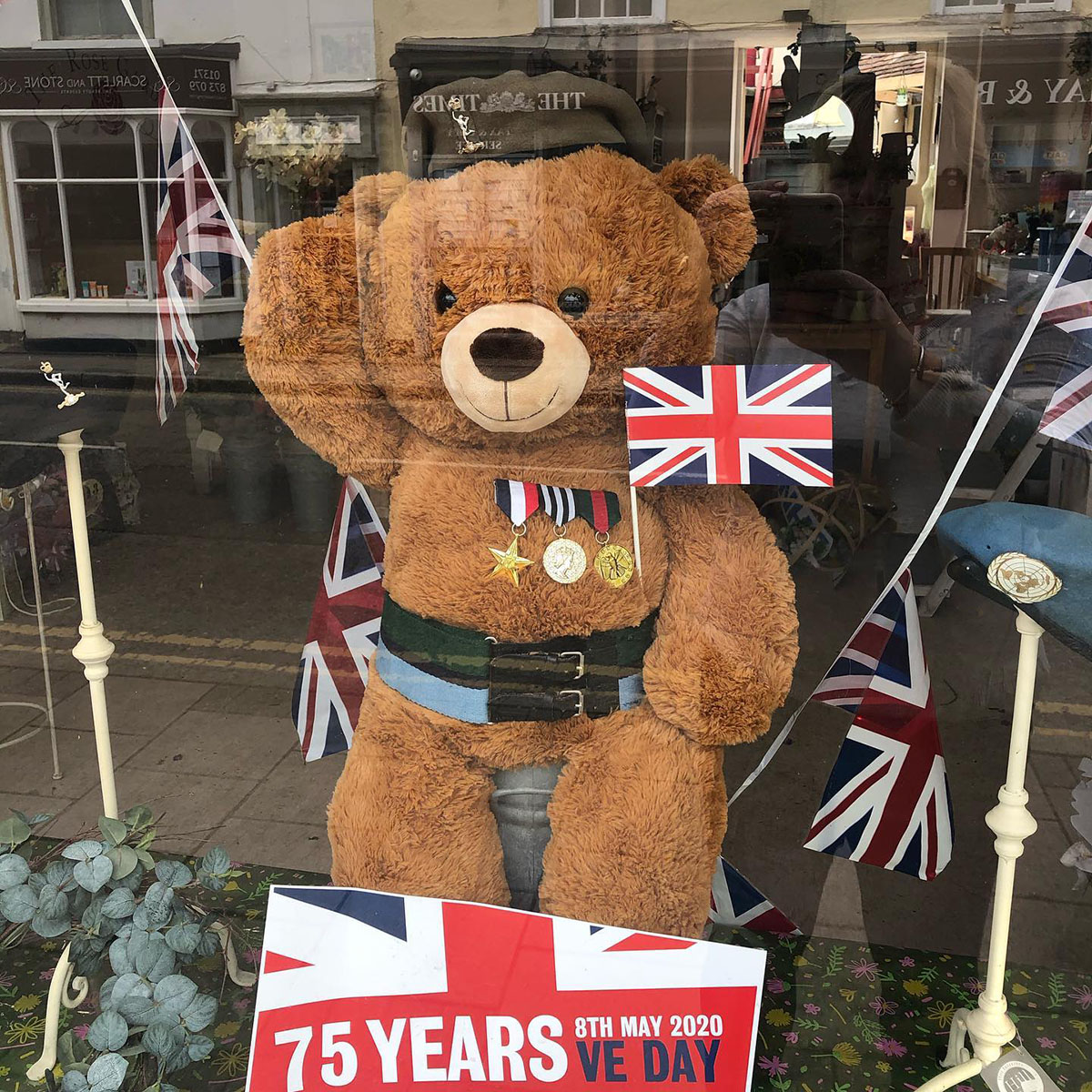 Anne
I joined The Rose Garden in May 2022 after a long absence from floristry. I gained my qualifications in 1985 after enrolling on a youth training scheme at Harlow College.
Since then I have done floristry mainly as a hobby. I enjoy making foam arrangements particularly and my favourite flowers are iris, daffodils and freesia.
Outside of work my hobbies include writing books, walking and looking after my cats and rabbits.